The Christmas Project #3 Pick Your Photo for Your Christmas Card
We're keeping today's Project fun (and hopefully simple!) in honor of Thanksgiving. I want you to either:
Pick your Christmas picture (if you're including one in your cards,) or
Take a picture while everyone is gathered for Thanksgiving
See? Fun and easy. Tomorrow you can send it in to Costco, Target,  or your card company to get it ready for your cards. But for today, just enjoy looking through all those pics on your computer (or your phone,) and remembering how blessed you and yours have been this year.
Tell us all what you are doing for your photo: professional, a snapshot, something you found from this summer? Or maybe you're skipping the whole card thing – good for you! Tell us that too! For everyone who comments, I will enter you into a drawing for a $10 gift card to Shutterfly.com Here is what we did this year on Shutterfly – it was super simple (and did I mention, it's DONE!?!)
First, Here is what we did last year: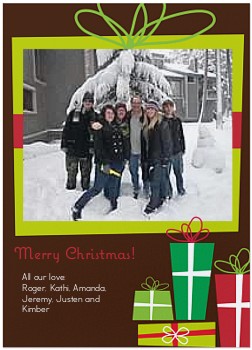 And here is what we did this year: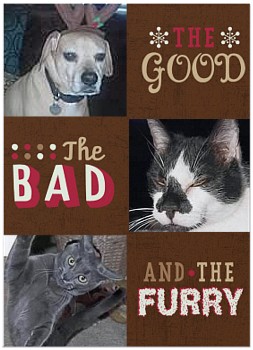 Triple Furry Wishes Holiday Card
Oh, and Happy Thanksgiving! I really do include you my friends as one of the things I am most grateful for!