UPDATED 2016: We know it is not Valentine's Day, but a spicy marriage isn't just for the holiday. Create a summer lovin' kit for the long summer nights to celebrate you and your man! Surprise your husband with a love kit and make it a summer to remember.
__________________________________________________________
I know that Valentines is over a month away, but I like to imagine that I'm a planner and not going to try to pull everything together the night before. So, if you're interested in adding a dash of spice to your marriage this Valentine's Day (and beyond) here is a project you can have as much fun putting together as you will have using. (OK, hopefully you'll have a little more fun using it. But I digress …)
The Container
Find a decorated box, fabric bag, or any cute container that's about the size of a shoe box. To do this on a budget, you can use a shoe box, but wrap it "soap opera" style. (Where you wrap the lid and the box separately with wrapping paper so it can stay pretty and be used over and over again.)
What to Fill it With
This is a list of items that can go into the box. Pick and choose those things you and your husband will love. Be playful! Have fun with packing it (and opening it)!
Candles
Candy hearts
Pieces of cute paper with Notes of "I Love You Because…" ***
Lotion
Chocolates
Sparkling cider
Mixed CD of Great Love Songs
And if you wanted to make sure that your husband's Valentines wish is fulfilled, (and you have someway for the kids to be occupied,) here are a couple more suggestions of some items to add:
Sexy briefs (his or hers or both)
Massage oil
A rubber ducky
A couple of thoughts:
You could do a much simpler, stripped down version for a MOPS craft project.
I'm a big believer in not cheaping out on things like lotion. I don't want to use anything from Target's dollar bin on my skin. Get something you will use all year long.
Same thing for chocolates. If you're going to spend the calories, get something you love.
Make sure you put a few things in there that make you feel great – a favorite lip gloss, a candle that you love. This is a basket for both of you.
*** The notes in the mailbox are all reasons I love my hubby. Here is my list. Feel free to totally plagiarize any of these for your own purposes.
You make sure that my Tivo shows are never interrupted by Star Trek reruns
You love my mom
You are smart. And smart is sexy.
You are a great father.
You let me keep the kitten we found. And you change the litter box.
You tell me I'm beautiful even when I have plenty of evidence to the contrary.
You fix my printer. Every.single.time.
You never let me pump my own gas.
You are the best barbecuer I've ever experienced.
You love me on my bad days.
And thanks to Fawn over at The Happy Wives Club for inviting me to link up today. Love her stuff. Check her out: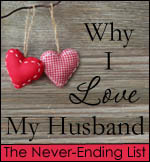 ___________________________________________________________
We are so excited to team up with Proverbs 31 Ministries as they feature our very own The Husband Project for their online Bible study, June 20-July 22. Be Sure to sign up for the online Bible study HERE!